Jorge Cardoso / MMA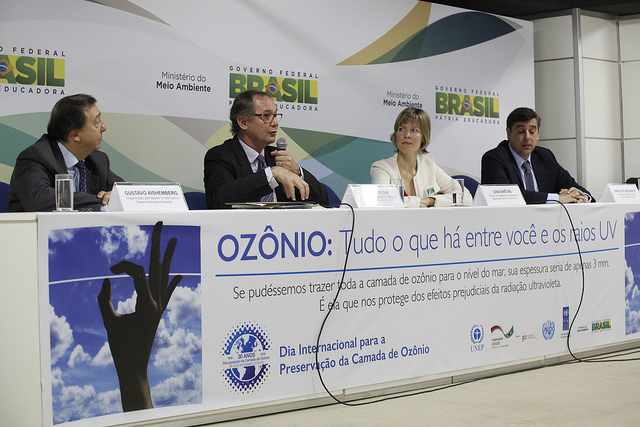 Klink: state had regulatory role and facilitator
By: Cristina Ávila - Publisher: Marco Moreira

The Ministry of Environment celebrated, on Wednesday (16/09), together with businessmen and representatives of international organizations, the International Day for Preservation of the Ozone Layer.
In the event held in Brasilia, the results of the first phase of the Brazilian Program for the Elimination of Hydrochlorofluorocarbons (PBH) were presented, in which the engagement of the private sector was essential for Brazil to overcome the reduction of paid-artificial chemicals goals the atmosphere by industrial processes.
The expectation now is funding $ 40 million (R $ 153.4 million) for the implementation of the second stage of the program. The determination of the Montreal Protocol - the treaty which includes 197 nations in protecting the ozone layer - was that developing countries reached in 2015 reaching a 10% reduction in the consumption of hydrochlorofluorocarbons (HCFCs), compared to the 2009 average consumption and 2010. Brazil, however, reached 16.6%.
Polyurethane
The success was possible because of studies with the participation of the productive sector, which enabled the calculation for elimination of HCFC 141b, used by the industry of polyurethane foams, which was one of the main goals of the first phase of PBH.
At the event Wednesday, attended by 21 companies in the sector, which completely eliminated the use of this substance. Most of them manufacturers of parts for the automotive sector. Entrepreneurs received commemorative plaques for partnership with MMA.
"The government has regulatory role, but here mostly had the role of facilitator," said Secretary of Climate Change and Environmental Quality (SMCQ), Carlos Klink, emphasizing the need for environmental policies are in accordance with the policies of development.
MULTILATERAL FUND
The program was developed between 2009 and 2011, with the participation of the United Nations Development Programme (UNDP) and the German cooperation agency GTZ (Deutsche Gesellschaft für Internationale Zusammenarbeit). The second stage will also have the participation of the United Nations Program for Industrial Development (UNIDO).
The protection manager the Ozone Layer, Magna Luduvice, the expectation now is that the Multilateral Fund of the Montreal Protocol Implementation approves Brazil's request for the application of 40 million dollars for the implementation of the second phase of PBH.
The fund has resources of 45 developed countries to finance 148 developing countries projects. In this new phase should be completed actions in the foam sector and initiated new shares for elimination of HCFCs in refrigeration and air conditioning industry.

Social Communication Office (Ascom / MMA) - (61) 2028.1165